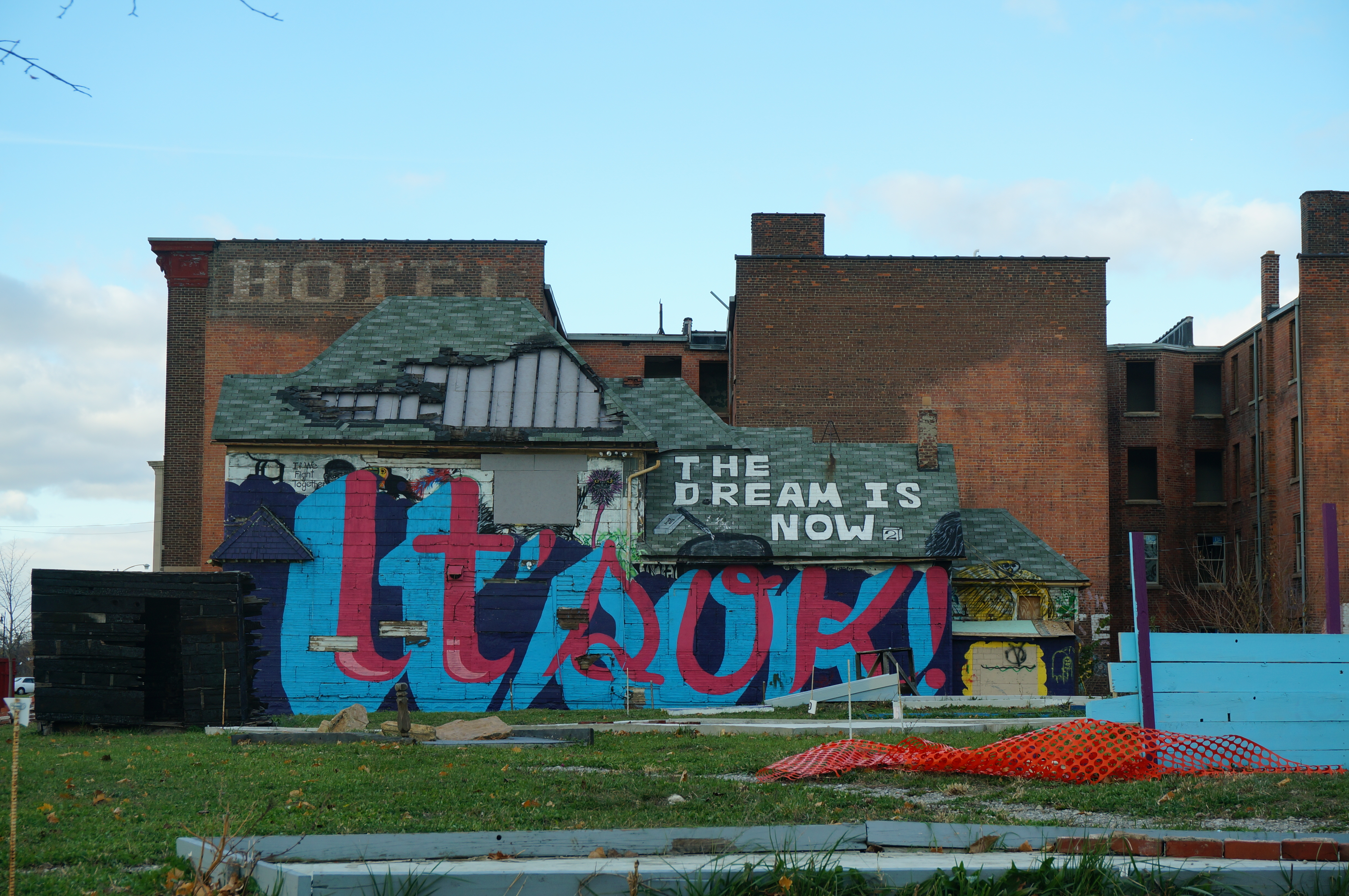 Despite what you've heard, the street lights are on and the fire trucks are responding in Detroit*.
Driving through the Oregon woods is the scary stuff of fairy tales. Scary in a good way. It's damp, dark and misty. Slimey, slippery and quiet. Tread carefully for Mulder or Scully might be hiding behind a tree. On the road west from Eugene to Florence there's a forest of young fir trees (Siuslaw National Park) with moss so thick it drips from the branches. The damp roads must never have a chance to dry and the fog hangs in the tree tops like carefully placed Halloween decorations.
Growing up with a small patch of Australian bush up the road I never understood why the woods were supposed to be scary. The bush has always been a place of adventure, discovery and good times. Warm, dry and bright with a strong eucalypt scent and the comforting buzz of insects. I never once found a trail of breadcrumbs or scary bears looking for porridge.
Back in Siuslaw, the road through the forest curved on and on – even tunnelling through a mountain – before ending up by streams, rivers and finally the coast. We drove through small towns which were variations on a theme with a few quirks thrown in. One town had an eBay shopfront where a power seller (TM) was dispersing to the world the goods of computer-illiterate locals.
We spent our first night of the road trip in the seaside town of Port Orford. It was remarkably smaller and darker than Google Maps told us (things always look bright and easy on Google Maps). Despite arriving at our B&B at 5.15pm it was well and truly pitch black. Being from the city, I can't remember the last time I saw this much darkness, however it fitted in nicely with the wood fire and the home-made cookies at the beautiful Compass Rose B&B.
We headed straight out to dinner ("restaurants close at 8pm around here") at Griff's On The Dock, a slightly kooky place recommended on the Thorntree forum ("ask them what's fresh and order it"), and by the B&B owner. The place reminded me of a tiny truck-stop – all red and white tablecloths, busy walls and a waitress with all the charm of your no-nonsense school canteen lady. Our table quickly filled with clam chowder, salads, calamari, halibut, steamed clams, garlic bread and beer from nearby city of Bend. The place really was right on the dock, a shack amongst boats, although we were oblivious to them as we curved down the ramp towards the sea. Like going through digital camera photos the morning after a party, we drove back to the dock to see just what we had done the night before.
Arriving to a town in darkness – especially one too small for a walkable strip or streetlights – means you need to wait til morning for it to reveal itself. We woke to see sunshine streaming through the forest and a view through to the marshes and a lake. It was a beautiful and secluded spot. Walking around the forest on a sunny day was nothing like the scary misty forest of the previous day. The ground felt like thick Persian carpet and there were soft textures in all directions. There were birds, salamanders, and deer hoof prints, although it wasn't until we were leaving that we saw actual deer frolicking by the side of the road.
The dramatic coast of Oregon and the beaches of Port Orford are best left to photos – even my amateur ones.
As some people say, go to Seattle and you'll know why Kurt Cobain killed himself. It really is a very grey city. Our entire stay was shrouded in a mist which would be more at home in the UK, and the streets have a certain quietness that goes with such weather.
But I think it's fairer to say you'll know why Nirvana wrote the music they did. It's a city for book reading, movie watching, music making and discussions over coffee. Whenever the weather got too much for us – too cold or too drizzly – it was an excuse to stop at a cafe for chilli soup, for crumpets, or for coffee and a cookie; or an excuse to pop into the wonderful Elliot Bay Books to buy heavy hardcover things we never realised we needed; or an excuse to pop into yet another record store over-flowing with new and used CDs in all imaginable genres.
So I can imagine it would be a good place to hang out in a shed with a few mates and make some melancholy rock music. Although this grey weather = melancholy music theory doesn't stack up when you think about Glasgow's twee pop masters, Belle & Sebastian.
My list of things to check out in Seattle:
Georgetown. Unless you're into Fantagraphics Comics there's no real reason to come here, but this area known as the wild west has an abandoned industrial town feel to it – and in a good way. Cute cafes and bars are popping up around here too.
Capitol Hill. I think this is the swankier part of town. Suddenly there were people dressed in coats rather than in waterproof North Face jackets and sneakers (the uniform for the rest of the city). Pike Fish Fry is an excellent place for all your deep fried needs – even the vegetables are fried. The fish and chips were the best I can remember but there's also pulled pork and hanger steak for the non-fish lovers out there.
Pioneer Square. Pretty area of downtown where Elliot Bay Books is located.
Pike Place Market. The tourist epi-centre. Buy some donuts because you want something warm and comforting then regret it later. On 1st Ave but still part of the markets is The Crumpet Shop. It's probably the only place to go for decent tea, not to mention home-made crumpets.
Seattle Centre. More touristy-ness which is probably an equivalent to Sydney's Darling Harbour but the lack of sunshine gives it an abandoned theme park feel, in a good way though (I've really got a soft spot for neon signs glowing in the mist now).
The Experience Music Project is in the Seattle Centre Park. Go there to check out more garishly shiny work of Frank Gehry and then stay to learn how to play the chord progression from Nirvana's 'Come As You Are'.
Coffee places other than Starbucks. I'm confused that Starbucks (the worst coffee in the world) comes from a place known for having good coffee. Did Starbucks once make good coffee but the standards went down as they expanded across the globe? It's the white elephant in the room so I didn't dare ask but instead found some places with a menu I recognised and espresso machines rather than drip coffee sitting bitter in the corner. A tiny hole in the wall, Cafe Bambino in Ballard just down from The Sneakery, served the real stuff, and the cafe underneath Elliot Bay Books did too.