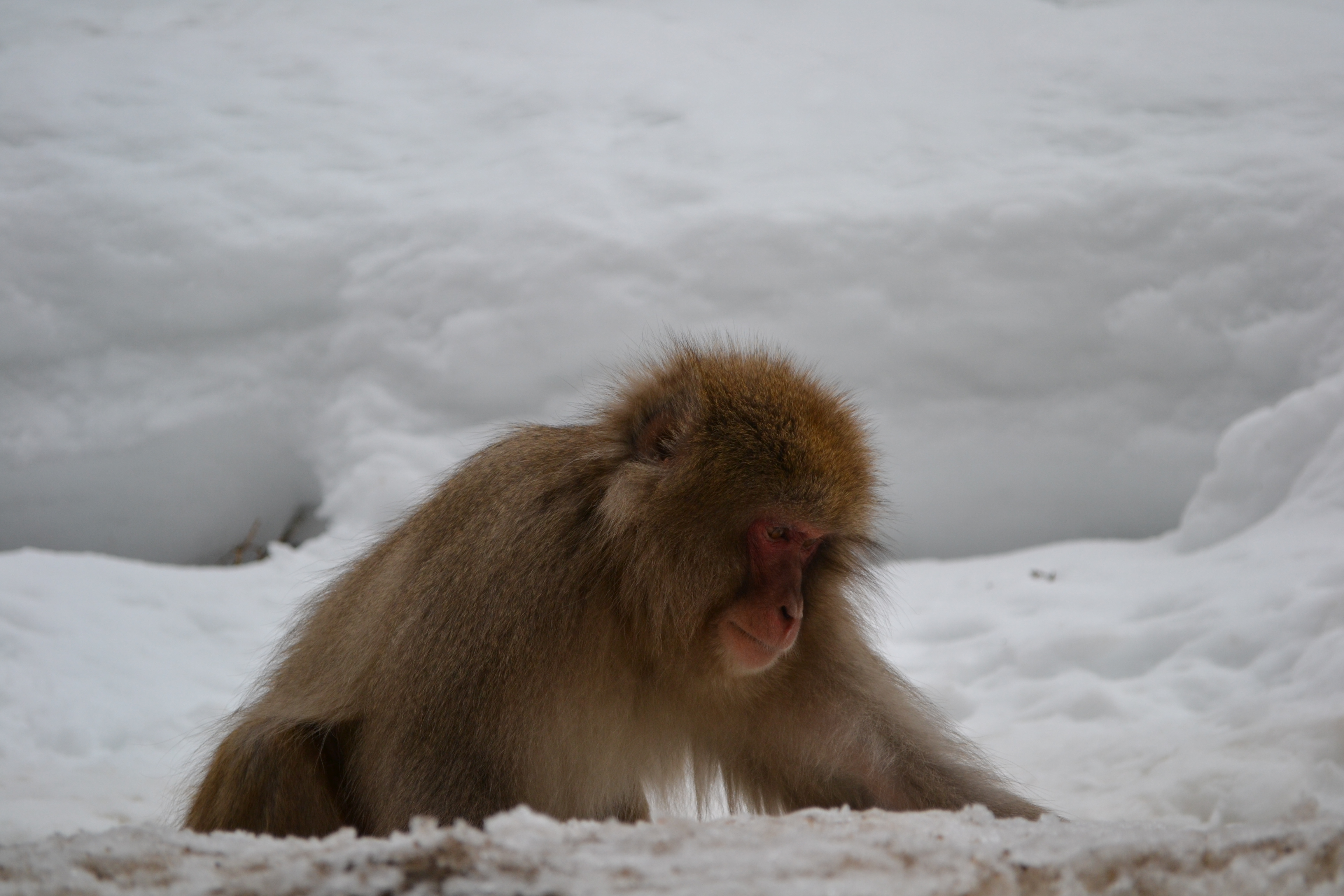 On the train to Yudanaka station from Kyoto I started to wonder if it was worth the effort. From the window of the speedy shinkansen train we watched factory after factory, town after town slide by under the heavy, grey sky.
Kyoto is another city I left feeling like I hadn't quite seen enough of it. Somehow it reminds me of a French town, possibly because of the narrow streets and a culture of pedestrians, cars and bikes all happily sharing the same space. Of course there's the emphasis on food too. Most important.
We spent the first two days meandering around without too much of a plan. It's not my usual style, so by day three – our final day – I had a long list of things to do and not enough time. Here's my summary of the most interesting bits bits.
EATING
Omen was mentioned in the Kyoto Time Out as a good noodle place near the beginning of The Philosopher's Walk. We chose it for its convenience rather than it's write-up, but it deserved more attention. The Philosopher's Walk was pleasant and quaint, but turning back halfway to go to Omen was a good decision. I imagine The Philosopher's Walk is at it's best in cherry blossom season but then you have all those darn tourists to put up with.
But back to Omen. It's a small and refined space with well-priced food and polite service. The standard shoes off at the door and then sitting on the floor applied. The English menus made it easy enough to work out what we wanted, and then after an explanation from the waitress our amazing udon experience began. Various pickles and vegetables were artfully lined up on a tray. From there it was a matter of mixing your own with the noodles and the soup broth in two separate bowls. It was simple and delicious and we got a hot and cold version so we could try a bit of each.
Kanga-an was the other significant dining experience. I'd have to say that the experience was more enjoyable than the food, given I prefer meat over Buddhist meat. The restaurant is set in a temple once lived in by the Emperor and his family. It's hiding in the middle of a few suburban blocks, but once at the entrance there's no mistaking it. A traditional gate is followed by a stunning garden which is artfully lit-up at night time. As we wandered into the garden we were greeted by the man who would then serve us for most of the evening (a monk?). There were 14 courses, the most visually appealing being the first course which was served on a rock garden, complete with real flowers. There were delicate vegetable broths, spikey soy balls hidden in leaves as
well as the usual things like tempura. The service was very friendly and not overly formal but we were still left asking each other questions in hushed tones after they delivered food to our private dining room.
Other tasty bits we stumbled upon….
Having a Japanese pancake at Issen Yoshoku on the edge of Gion is recommended in all the guidebooks. We stumbled there after arriving late at night from a delayed flight. It has a giant menu with one item in it, so it was definitely an easy introduction to Japan. One giant pancake, please ma'am! It was covered with Worcestershire sauce and shallots so it was a pretty full-on experience. The just cooked egg hiding in the centre was the highlight.
I was delighted to find a French patisserie only a few blocks from where we stayed. Le Petit Mec, on Imadegawa Street just west of the Imadegawa-Omiya Street intersection, had croissants and brioche which tasted as they should. It was in a beautiful little shop where all sorts of sweet and savoury things were piled high. There were mini rolls with salmon and brie, as well as a few more uniquely Japanese items. My brioche au chocolate turned out to have dried apricot in it, but I was cool with that.
Stumbled into a place called Senmonten which basically did gyoza and not much more. One guy making them at one end of the counter, us eating them at the other, old man behind the til and young girl pulling the beers and serving us. The vibe was somehow more American bar from the '60s than anything Japanese. A pile of change later and we walked back to the hotel with a warm glow of gyoza.
Nature Donuts on the main street was not quite the hot and soft donut experience we'd hoped for, but if dry cake with flavourings is your thing then go for it.
The Nishiki market is worth a wander through if only to look and taste the amazing array of pickles. There's all sorts of fresh food there, some which is good for eating on the spot. I tried some "jumbo" takayaki (octopus) balls but they were too jumbo for my liking; still gooey on the inside.
Lastly, vending machines! They count as food, right? I'm pleased to report they sell both hot AND cold Royal Tea. It'll be my new addiction when returning to work in Sydney's Chinatown, and a cheaper one than my current Cha Time addiction.
Oh and the strawberries have been great too. We saw a pack of three giant strawberries being sold for 1500 yen (almost $20) in Nishiki Market. I always thought the smaller ones tasted better so luckily they're cheap and plentiful in the supermarkets.
SHOPPING
Is it just me, or do shops in a foreign country look exotic and amazing on first look and then boring the second? I had big plans to buy lots of "tasteful" souvenirs (is there such a thing?), but after seeing the same shops a couple of times I couldn't see the point in any of it. I wanted to, I swear.
Anyway, if in Kyoto I recommend you check out Kyoto Design House for design souvenirs and accessories, Graniph for t-shirts and hoodies (although I now know there's one in Sydney), a couple of vintage clothing stores in the same building as record store art rock 1 (anyone for some '60s Gaultier?) and Muji for the food.
SIGHTSEEING
We made it to Ginkaku-ji first. It's known as the silver pavilion even though it never became silver…. all good intentions but no outcome so have your imagination ready kids. Nonetheless, it was beautiful, and in a scenic spot at the bottom of the mountains and with lovely landscaping.
Kinkaku-ji is the golden pavilion, a 30 minute bus ride west of the silver pavilion. It was much busier, but that didn't detract from how stunning the gold looked as it reflected on the pond in the afternoon sun. Despite the afternoon sun, we were freezing so we whizzed around the site before huddling together back at the bus stop.
The last temple we officially visited was Kiyomizu-dera and if ever there was a super temple, this was it. It was spectacularly perched halfway up a mountain, with views over Kyoto and the temple is amazing in its construction – massive timber poles and no nails – yet the hordes of crowds somehow detracted from the experience. Give me a quiet temple in the city and I'll be happy….. good thing we did actually stumble across many quiet temples. Of course, for Japanese tourists sites like this one have a different significance so perhaps we shouldn't have been crowding them.
GETTING AROUND THE CITY
Cycling was definitely the best way to get around the city. The style of cycling is more like being a pedestrian on wheels than being a slow moving car. Here's a list of places where you can hire bikes. There is also Community Cycle which is easy, cheap and was only a few blocks north of our hotel Mitsui Garden, Sanjo.
Other than that, getting a one day bus pass for 500 yen and a bus map is enough to get you to the various temples. The subway is also easy to use and on both forms of transport you'll no doubt have helpful people coming over to check that you're ok.
The Lonely Planet said KL isn't a pedestrian-friendly city but we'd spent enough time in Asia to understand what that means – no gutters, slippery surfaces and uneven pathways with motorbikes parked over them – so we felt pretty confident about whizzing through a walking tour in the morning. We did want to get a feel for the city beyond its shopping centres after all.
We probably walked 2kms without seeing anything of note (except the tourist info booth which we found once and then had to backtrack to find again because it had moved). We could've handled pedestrian-unfriendly streets, but these streets were more like freeways of the most pedestrian-unfriendly variety. We'd be walking along a road from the station following the map to our next destination when suddently we'd find ourselves needing to cross a freeway exit. Sure, that's not so hard, but after crossing the exit we realised the footpath was no more – we were standing on the edge of a few flyovers with our destination glimmering at us in the distance. We could cross one freeway without too much hassle, but multiple flyovers would take a real MacGyver and some mountain-climbing gear. So we backtracked again. And again and again.
We were getting so frustrated that upon finding a station we thought we'd just catch a train to the next point in the walking tour. Luckily enough some locals took pity on us and gave us an introduction to being a pedestrian in KL. Turns out we just needed to go through tunnels, up stairs, over freeways and occasionally underground in unmarked pedestrian tunnels. It's all about tunnels, but it'd help if there were some friendly signs.
The highlight of the walking tour was definitely the National Mosque where we dressed in full robes and headscarfs and spoke about Islam to a very friendly and helpful woman. The building's architecture is amazing and beautiful.
The low point of the walking tour would be where the two rivers meet. OK, maybe our hope of grand rushing rivers powerfully converging in the middle of a busy city was never going to be accurate, but this looked nothing more than two sewerage ducts meeting without fanfare or even a riverside cafe.