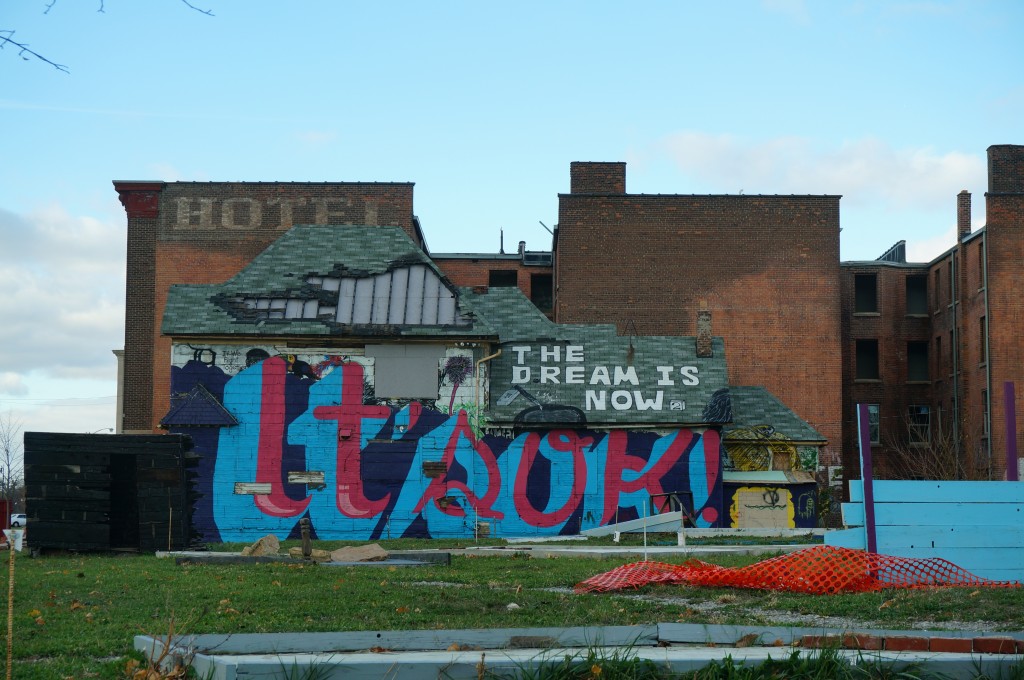 Despite what you've heard, the street lights are on and the fire trucks are responding in Detroit*.
It's a bleak drive along the I-94 from Chicago to Detroit, especially when it's only November and already snowing. Towns slip by unnoticed and even roadside stops for bad fast food are hard to find amongst the high speed blur of SUVs and billboards for adult warehouses.
We decided to go to Detroit because it was en route from Chicago to Toronto – two cities we knew were beautiful and wanted to see again. I must admit, part of the motivation for visiting Detroit was "ruin-porn". Was it really like a frontier town?
We're all too familiar with apocalyptic stories of boarded up houses, burnt out warehouses, streets full of potholes and suburbs with no lights.
They're all true, but they're not all that's happening in this city.
**************
We meet our airbnb host at her loft apartment in Corktown on that snowy evening after a 5 hour drive. She's stirring a pot that makes the apartment smell of apple and cinnamon – "like Christmas," I suggest. "Right, I'm glad you think that because it smelt like pot because my neighbour smokes constantly and it drifts up here."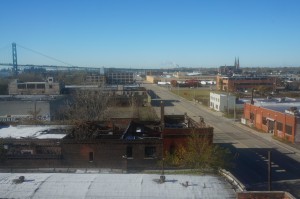 The apartments used to be a warehouse for one of Detroit's biggest department stores, Hudson's. The department store itself, closer to the city on Woodward Ave was demolished in 1998.
For me that's one of the more surprising things about Detroit – it has been in decline for decades, not just in the years since the global financial crisis where photos of crumbling Grand Central Station were shared ad nauseum. The financial situation of nearby cities Chicago and Boston aren't so different, yet Detroit has the frontier town label, the poster-child of the global financial crisis after decades of slowly falling from a great height.
Hudson's department store began in 1881 and they went on to start a motor car company too – it was the motor city after all. At its peak the department store took up 25 floors of an entire city block. Twenty-five floors – just think about that in comparison to the last department store you went into.
Here's a gif of the store implosion in 1998
**************
As we cruised through downtown, the streets empty of cars, but chock-full of stunning skyscrapers – buildings similar to art deco ones we'd seen in Chicago but now of so little value that no one bothered to upkeep them. We meandered through some backstreets of inner-city suburbs to get to our second destination and stumbled across boarded up mansions next to empty blocks next to lived-in homes with Holy Mary statues in the garden. We bumped over pot-hole-filled roads and realised "the blight" wasn't a destination to seek out on a tour, it was just around the corner.
In this case, just around the corner from a hipster cafe – Brooklyn Street Local on Brooklyn St and Michigan Ave. It was a cafe with veggie burgers, poutine, sweet blonde waitresses, mixed-race couples and hipsters on laptops sitting in the corner. We'd been to a hipster BBQ place the night before where it was all beards, flannel and craft beer (and the BBQ ribs were excellent – smokey and not doused in BBQ sauce).
Detroit is just like any other city with people who've always living there getting on with whatever it is they do. The mundane happens here too.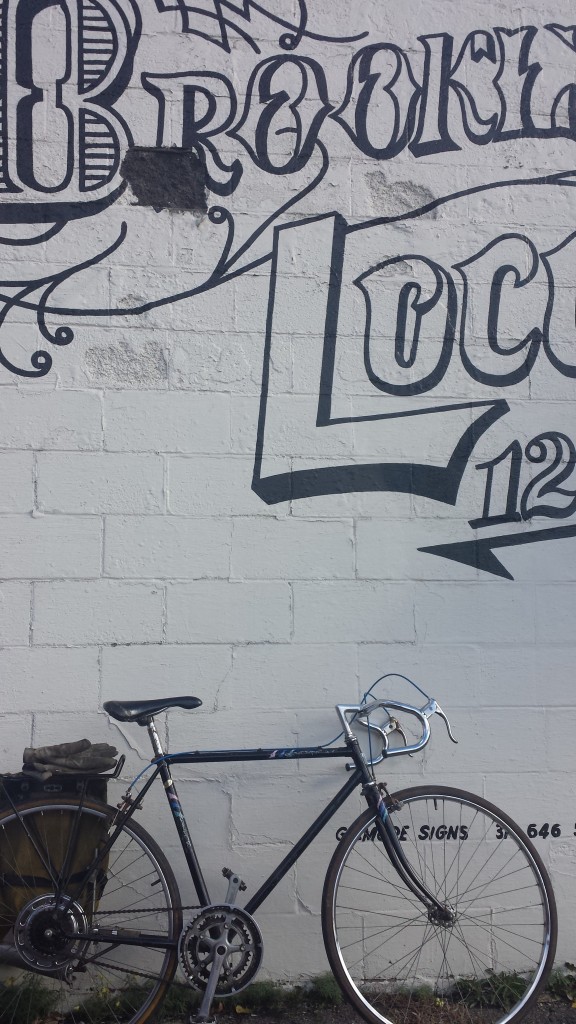 I picked up a copy of the book "Detroit City Is The Place to Be" by former Rolling Stone journalist Mark Binelli. It's a fascinating read and I recommend you pick up a copy if you're at all interested in gentrification or Detroit's history. Detroit is a city that has time and again has swung between success and failure – it's great fodder for journalists and that's why we all know about it. Yet its history is far more complex than I imagined (yes, more than cars, motown and techno!) and its potential rise is more complicated than utopian dreams of city farms.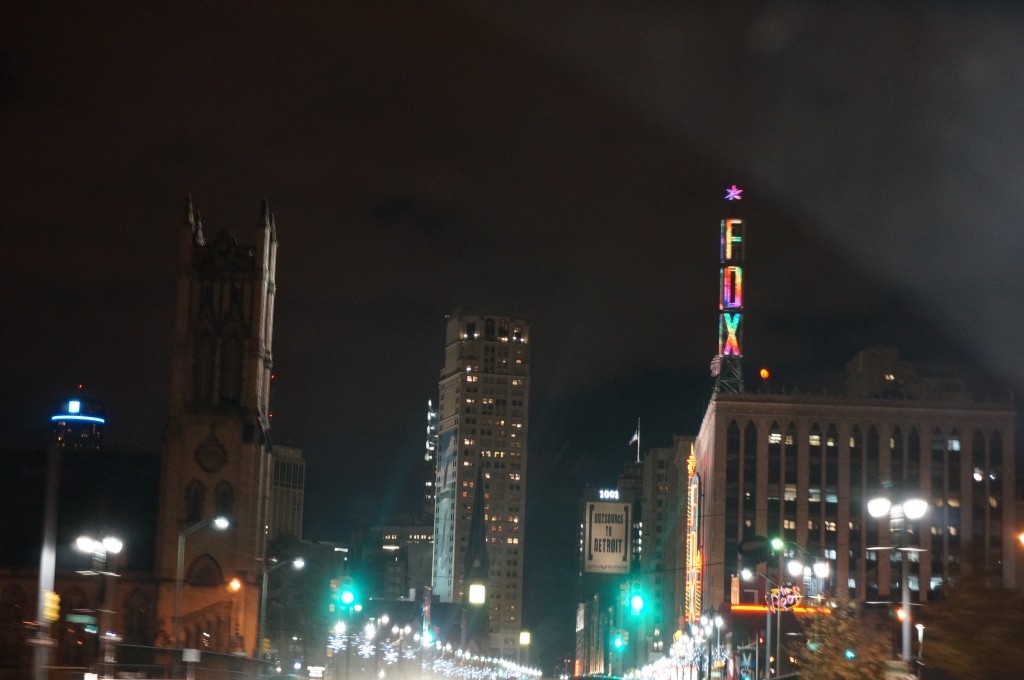 If you're thinking of going, here are some tips:
Inside Detroit for advice, maps tours from locals
Torino, fancy restaurant with an excellent set tasting menu
Heidelberg Art Project
Slow's BBQ for great BBQ and craft beer in Corktown
Brooklyn Street Local diner for tasty food and good service
Pure Detroit in the Guardian building for locally made goods
Corktown loft on airbnb
*We know the fire trucks are responding because the fire alarm went off in the warehouse building we were staying in. It was the middle of the night and I woke up immediately thinking "Is this a real fire and will anyone come?". Luckily maybe 5 minutes later we heard sirens approach. (And it didn't seem to be a real fire.)