A city which rises out of nowhere. Getting the train from the north it's all dramatic mountain ranges with small villages of farmers in the valleys in between. Then, closer to Madrid, the ground flattens out and becomes dustier and people on the train start collecting their belongings. A few moments later there's a city is out the window, just like that.
We really enjoyed our time in Madrid. Its museums, gardens and squares. The way people meandered in the squares and lingered in restaurants and cafes from the hot afternoon into the evening. It had a quiet laid-back summer vibe, with balmy nights reminiscent of childhood or Cloudstreet.
Getting cultural
Prado
If you've bothered going all the way to Madrid, chances are you've already put this museum on your to do list. The ambience is closer to a shopping centre than a gallery, but no worse than The Louvre.
We wanted to visit in the evening so decided to go on the free night which took about 10 minutes of queuing. Favourites include Caravaggio's David Victorious over Goliath, El Bosco's The Garden of Earthly Delights and Messina's Dead Christ held up by an Angel. Must say, there were an awful lots of paintings of royalty and religious scenes… the times, the times.
Reina Sofia
Had I known in advance how amazing this museum is I would've scheduled two visits. A few hours later we were tired, hungry and generally over-museumed. We don't usually let ourselves get to that point, but Reina Sofia was not only endless, but good.
Guernica is the star of the museum, a massive work with a silent crowd standing along its entire length. In the same collection (1900-1945) are Miro upon Miro as well as Dali. Yves Klein Blue always excites me, but the film works were probably my favourites.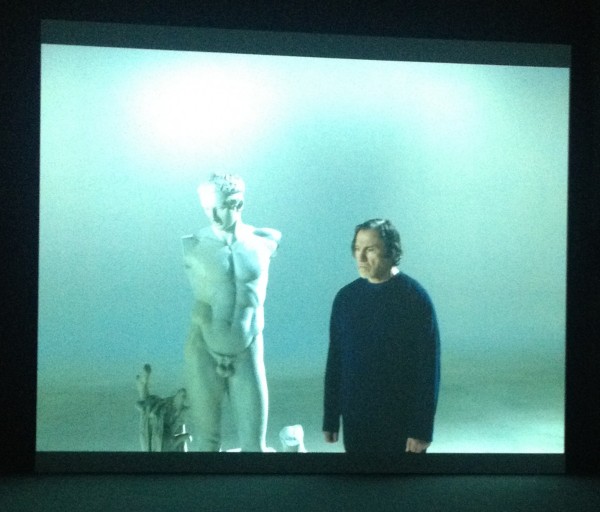 Never before have I seen such a decadent approach to film display. There's a labyrinth of massive and mostly empty rooms, each one seemingly darker than the last. There was only one way in and out: we were lost in the dark with 10ft black and white characters being projected around us. We'd turn one corner to find an old black and white film on a projector, and around the next to find a HD projection of Harvey Keitel performing a monologue. It was too dark for any explanations on the wall so we drifted through not knowing what we were looking at or why. A truly baffling and intriguing experience all at once.
Thyssen Bornemisza.
Go here too. An astoundingly impressive private collection with religious works from 1200, through to impressionism and pop-art with quite a bit in between.
Parque del Retiro
Somewhere between all this museum-ing you'll need to drop by this park. It's a beautiful place to laze and read a book on a hot summer day. The middle of the park has a giant pond where you can hire row boats, while around the edges of the park are lots of miniature hedges where you can claim a square of your own for a nap.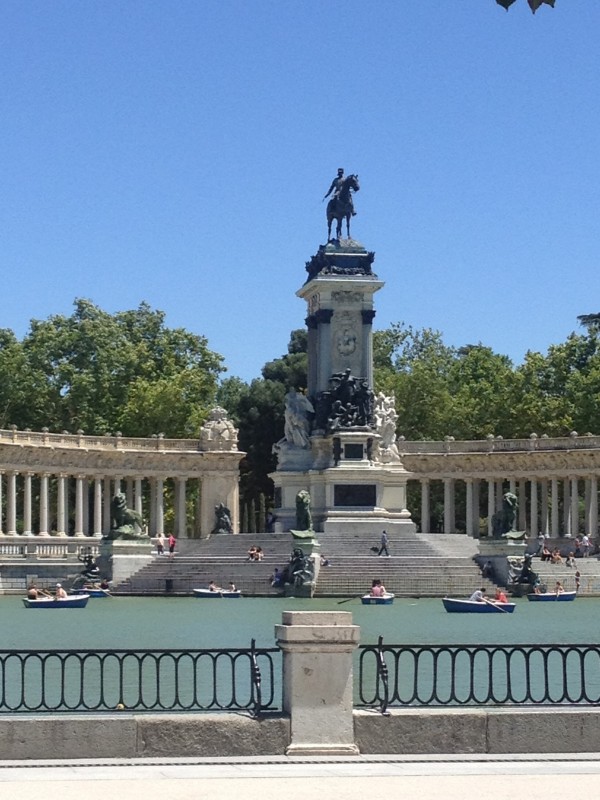 Royal Palace of Madrid
Tip: free entry to the palace on Wednesday and Thursday evenings from 8pm for people holding a EU passport.
Getting fed
Mercado de San Miguel
Truffle sausages? Tapas paella? Anchovies, cheese and more things on a stick than you can poke a stick at? Yes please. The place has quite a vibe in the earlier evening, so it's a good place to drop by if you're starving before the 10pm Spanish dinner-time.
Mercado de San Anton
Similar to San Miguel, but maybe not quite as exciting. We stumbled across it in the early afternoon so it was still very quiet and more about produce than tapas. Worth stopping by if you're in the area.
La Mucca
This restaurant is about halfway between Prado and Opera and is worth the walk from either. It does thin pizza, nice salad and good wine. It's nothing to write home about, but the classy and big dining room is a nice place to recuperate from the heat between museums. Do go to the bathroom downstairs and you'll walk through a dark private dining room that's decadent and secret in such an inviting way.
Las Musa (menu).
If I were in Madrid I'd happily go to this place everyday. Nice vibe for hanging out, interesting snacky menu. Calabrese salad is pretty standard in these parts, and this one was especially delicious – lots of buffalo mozzarella and a drizzling of pesto.
Juana La Loca
Definitely our favourite tapas bar, all low lights, dark wood and closed doors. The bar guys were welcoming, spoke English and had that knack of remembering exactly what everyone has eaten and drunk. Highlights were MORE buffalo mozzarella, poached eggs with truffle and, to top it all off, a plate of French fries, covered in fried eggs and a few slices of crispy jamon. Plus more amazing wine than you can poke an anchovy covered piece of bread at.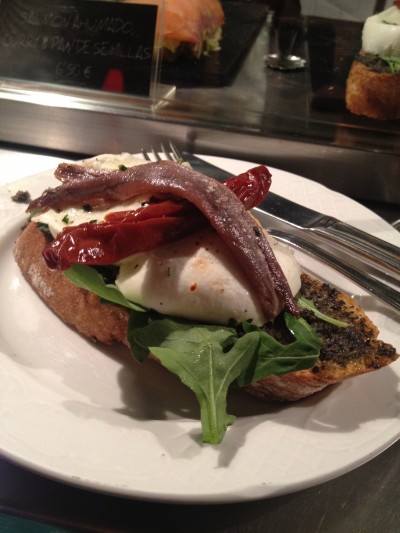 Botin
The oldest restaurant in the world, therefore somewhat of a tourist attraction, but still an upmarket restaurant and the only one we could find doing suckling pig. It was good, but not great.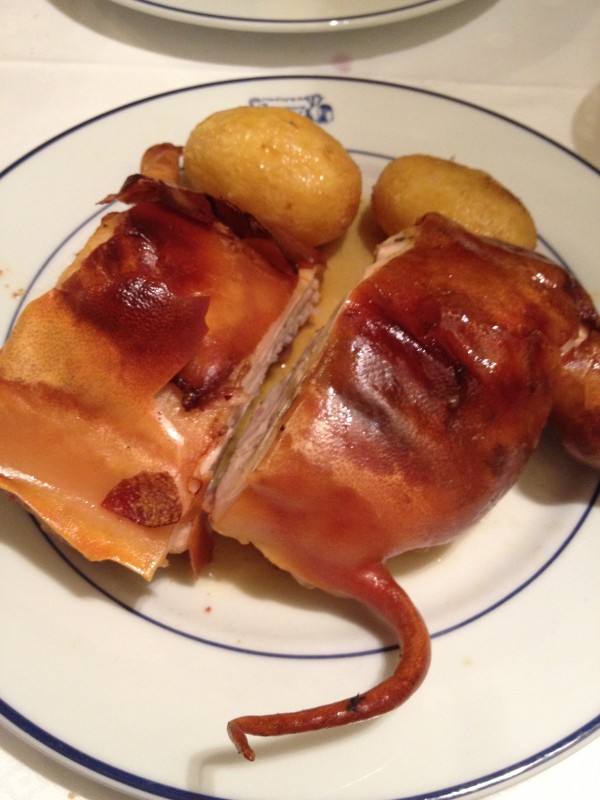 Museo de Jamon
It's a deli, but also a tapas place, and kinda a bar and it's open late. Can we have them here please? We ended up at one near our hotel down from Opera on our first night. At 11pm after a five hour train ride from Bilbao we were s-t-a-r-v-i-n-g, so of course we ordered too much.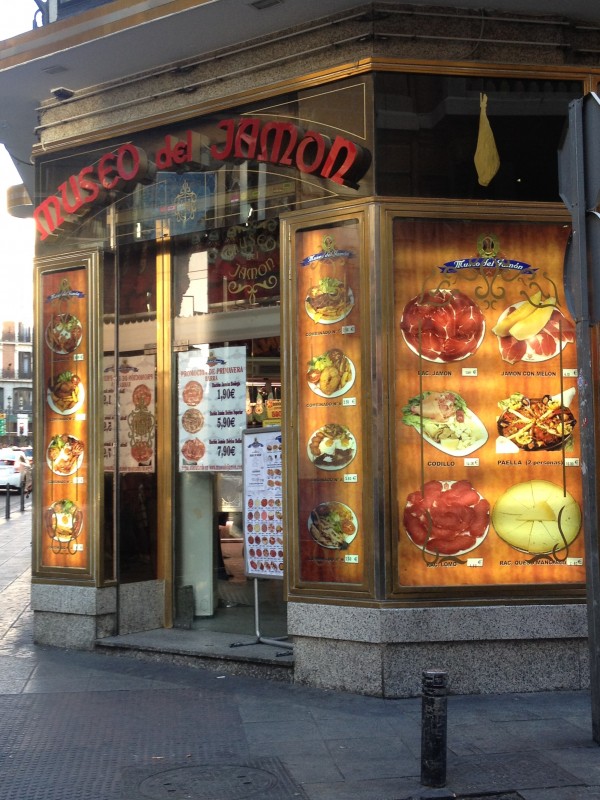 100 Montaditos
100 little sandwiches, most just a euro or two, and a stone's throw away from Reina Sofia. It's a big chain and you have to choose well, but damn, I'd take a few of these in Sydney over Subway any day. Oh and there may have been giant beer (a litre??) for a euro – I did ask for smaller but smaller didn't exist! Those crazy Spanish.
Looking back at this list is proof of why we though Madrid is where it's at for food. Nothing to complain about here and we were barely trying.